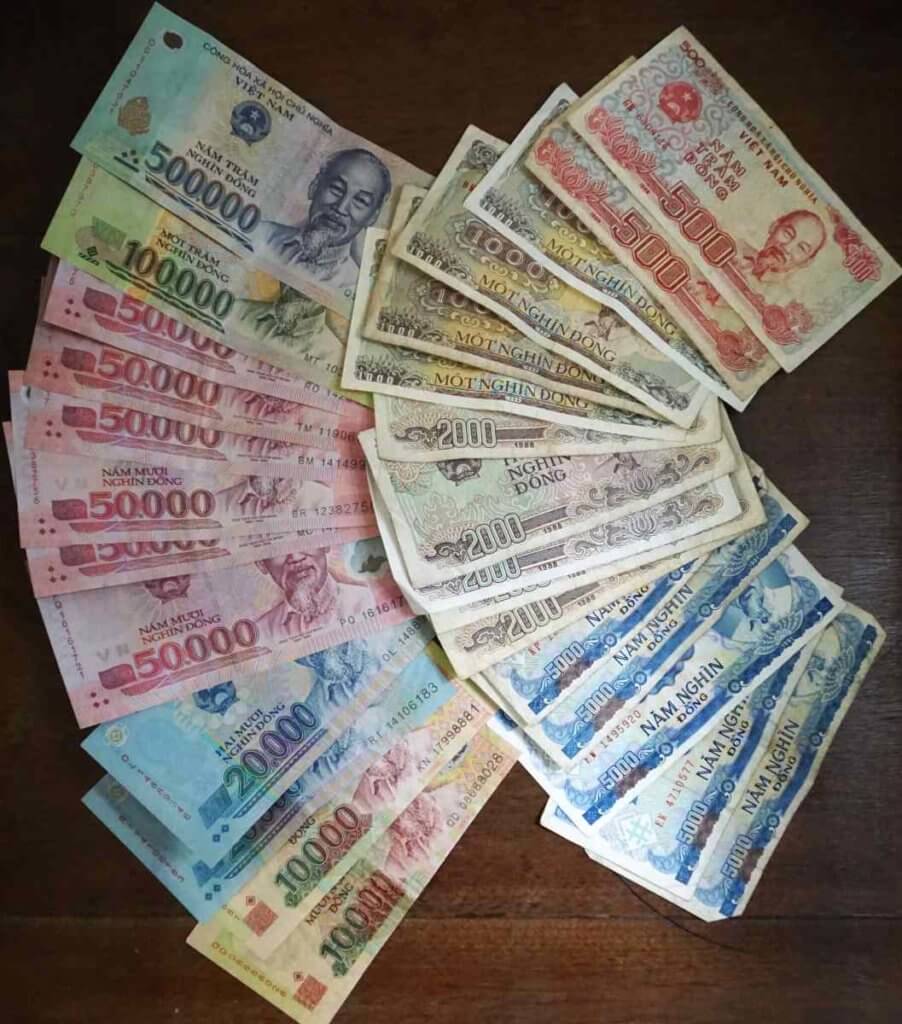 HANOI, VIETNAM – Let me first state that our lifestyle in Hanoi is anything but lavish, and I'll go into more detail about those "millions" in just a minute.
We're currently living in a one-bedroom second-floor apartment on a busy residential/commercial street about a block away from a small lake. Our apartment is modest in size, roughly 600 square feet.

We brew our own coffee each morning, and usually eat fresh fruit and eggs or oatmeal for breakfast. Lunch is generally our biggest meal of the day, usually eaten at a local restaurant or street food stall during our almost-daily excursions around our neighborhood and beyond.
For dinner, we'll often just snack and have a beer (or two) while watching TV or working at our computers.
Occasionally we'll splurge and have a pricey meal or, like we did a few weeks ago, go to a local craft beer pub for a comedy show and tapas.
As for those "millions" I mentioned earlier…
The millionaire next door
It's easy to be a millionaire in Vietnam. In fact, I'd venture to say that almost everyone here is a multi-millionaire, with quite a few billionaires, and even trillionaires, in the mix. The unit of currency here is the Vietnamese Dong (abbreviated as VND), and at the current exchange rate 1 million VND equals about $44 US.
Really! $44. Like I said, it's easy to be a millionaire in Vietnam.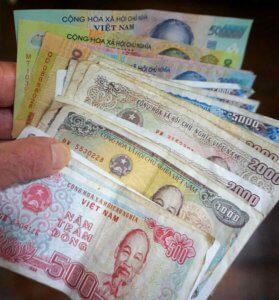 While the Vietnamese Dong is not nearly at the wheelbarrow full of money to buy a loaf of bread level, it does take a goodly pile of cash to go shopping, especially if you want to buy imported goods.
Lunch at a street food stall (a large bowl of pho or a plate of fried noodles with pork or chicken) typically costs anywhere from 30,000 to 60,000 VND or about $1.30 to $2.75 US. At a sitdown café, you'll pay roughly twice that. For another dollar or so you can add a glass of fresh-squeezed fruit juice or a bottle of beer, even less if the beer is on tap.
When we shop for produce at the "wet" market around the corner, we can come home with our canvas tote filled with mangoes, carrots, onions, fresh pea pods, bananas and more for about $5 (115,000 VND).
A nice, large cut of fresh meat (enough for a couple meals) might cost $3 (70,000 VND). And fresh eggs and papayas are always available, as is freshly-peeled pineapple, again for pennies on the dollar to what we used to pay back home in the States.
The bakery two blocks away offers freshly-baked croissants for 10,000 VND (44 cents) and small loaves of hearty brown bread for 9,000 VND.
Market vendors will pull out a huge wad of cash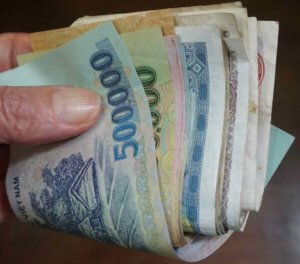 Not speaking the language means we have to be creative when asking how much our purchase total comes to. Sometimes the vendor will enter the amount into a pocket calculator to show us. Often, they'll pull out a huge wad of cash and peel off the appropriate bills to show us how much we owe.
Our rent runs around 9 million Dong (about $400 US) per month, plus electricity ($28 last month) and drinking water ($1.50 for a 5-gallon jug).
Since our money goes so much farther here, we treat ourselves to an occasional splurge, such as the relatively expensive multi-course lunch served at a very nice East Indian restaurant a few blocks away. The set price lunch, which includes two main dishes (one vegetarian, one with meat), a small yogurt salad and another chickpea salad, plus nan and chai tea, costs 320,000 VND (around $14 US) for the two of us, including tax and tip.
Like I said, compared to the street stall lunch at a couple dollars, the East Indian meal is expensive. But compared to what we used to pay for a comparable meal in Seattle it's a steal!
So, yes, we're spending millions here in Vietnam, but the rich lifestyle and cultural riches we get in return are worth every Dong.