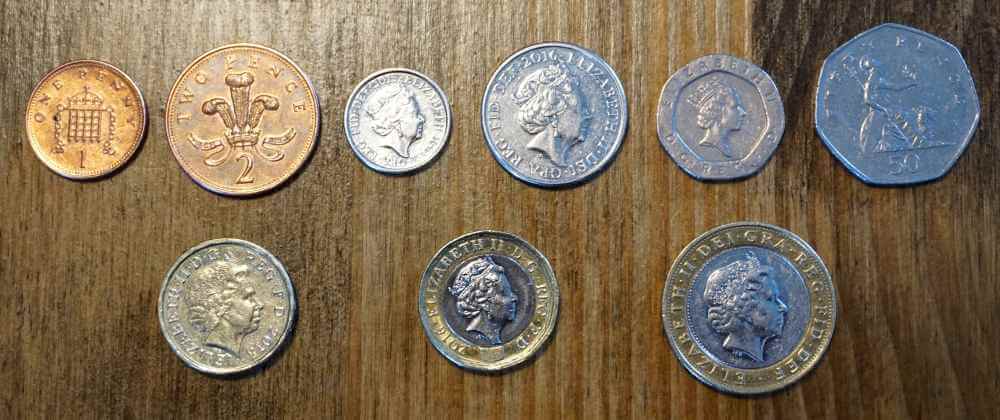 We've been traveling around the United Kingdom for just over two months now, and I have to say…
Thank God for the metric system!
And thank God for decimal-denominated money.
Luckily for us, we haven't had to deal with guineas, crowns, shillings, farthings or any other extinct denominations of British money. The United Kingdom instituted decimalization in 1971, when the pound was made equivalent to 100 "new" pence.
Before that, the pound was divided into 20 shillings, each worth 12 pence. Other pre-decimal coins included the crown (worth five shillings), half-crown, florin (worth two shillings), sixpence, threepence, halfpenny and farthing. The farthing (worth ¼ penny) had been withdrawn in 1960.
Not that we haven't had to make some small adjustments compared to our U.S. money denominations.
In Britain (England, Scotland, Northern Ireland, Wales and the Hebrides), the money is denominated in Pounds Sterling (no, it isn't made of silver anymore) and pence. (Ireland uses the Euro, but that is also metric).
Current coinage includes one- and two-pence coins, 5 pence, 10 pence, 20 and 50 pence, as well as one- and two-pound coins (see the photo above). The 20- and 50-pence coins have seven rounded sides. The smaller denominations are round. Newer one-pound coins have 12 sides and are bi-metallic, as are the two-pound coins.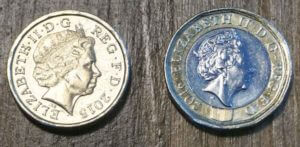 Some of the currently circulating one-pound coins are referred to as "old" pounds or "round" pounds, and they are slated to be retired later this fall (I'll write more about that another time).
Currency comes in 5, 10, 20, 50 and 100-pound notes (though we haven't seen anything larger than a 20, even when withdrawing several hundred pounds from a cash machine).
I must say, having so many different coin denominations has sometimes led me to have a very heavy pocket full of change. Especially since I've been trying to keep extra change on hand for paying bus fares as we travel around the country. I finally started keeping my one-and two-pound coins in one pocket, and all of the smaller denomination coins in the other pocket.
Just do the math(s)
Counting out change is a bit different when you have 20-pence coins instead of our U.S. quarters. Likewise, the two-pence coin (which is a bit larger than the quarter) seems a bit of an odd duck to my long-trained American brain. It all makes me think a little more (and do more math in my head) when paying for our groceries or bus fare.

I do like the one- and two-pound coins, and I'm sure they have a much longer useful life than our American dollar bills (are you paying attention, Congress?).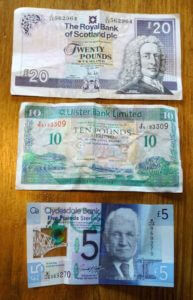 Another thing I like is that the currency comes in different sizes, based on its value. The 20-pound note is the largest (slightly larger than U.S. currency), with the 10-pound note a bit smaller, and the five-pound note smaller still. The newest five-pound notes are actually made of a polymer plastic with lots of anti-counterfeiting measures built in (and a neat little transparent window through which you can see a holographic seal).
These polymer notes are the "meaty money" mentioned in the title above. Apparently one of the ingredients used in their production is beef tallow – yes, really!
This has caused an outcry from vegans and vegetarians, Hindus, Sikhs, animal rights groups and others who object to the use of animal products in the production of something everyone has no choice but to use.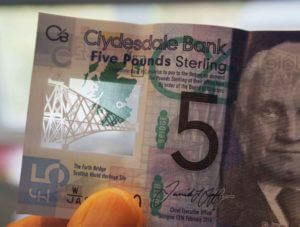 According to a report by CNN, "one possible substitute, derived from palm oil, was rejected because of environmental and cost concerns."
The report went on to say, "The bank said that tallow from roughly 50 cattle would be required to produce the 9.3 billion new £20, £10 and £5 notes that are needed over the next decade."