SCOTLAND
Castles, palaces and other important places we've seen.
In order of visit from where we were staying at the time.
EDINBURGH, County Edinburgh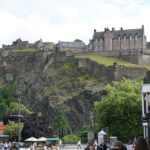 Edinburgh Castle
"There has been a royal castle on the rock since at least the reign of David I in the 12th century, and the site continued to be a royal residence until 1633." It's huge and it's there for the steep walkup.
Holyrood Palace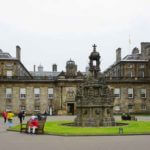 "At the Palace of Holyroodhouse, visitors can explore 14 magnificent historic and State Apartments, the romantic ruins of the 12th-century Holyrood Abbey and remarkable royal garden."
It's there at the end of the "Royal Mile" walk. Fortunately, it's all downhill from the castle…
Royal Botanical Garden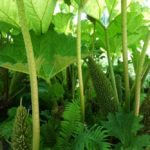 Established in 1760, beautiful gardens and a major botanical research center. Wonderful respite for a stroll away from the bustle of the city. And did I mention that admission is free?
National Museum of Scotland
Great stone building filled with Scottish antiquities, culture and history right in the center of the old city. Also with free admission.
KIRKCALDY, County Fife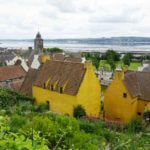 Culross Village and "Palace"
"Wandering around this charming town is about as close to stepping back in time to the 16th century as possible." Also home to the "Outlander" TV series settings of the market square, palace garden, numerous rooms and stairways.
Pronounced: cur (like curve) us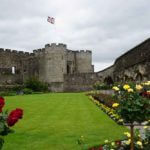 Stirling Castle
"Stirling Castle is one of the largest and most important castles in Scotland, both historically and architecturally." See our video visit on YouTube.
Ravenscraig Castle
"Dates from around 1460. The castle is an early example of artillery defense in Scotland." Admission was free, the views were great, and it's close by for a sunny afternoon walk.
DUNDEE, County "on the other side of the (river) Tay from Fife"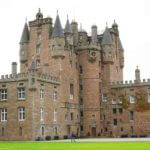 Glamis Castle
"The noblest architectural ornament in the county." We went for the architecture – nice!
Pronounced: glams (like glamour – forget "is", just plural)
ABERDEEN, County Aberdeenshire
Dunnottar Castle
"It was at Dunnottar Castle that a small garrison held out against the might of Cromwell's army for eight months and saved the Scottish Crown Jewels, the 'Honours of Scotland', from destruction." We went for the seaside location, its importance and it was close to the music festival in Stonehaven (just south of Aberdeen).
Pronounced: Dun (like Dundee) knot tar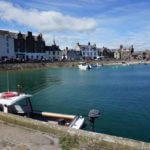 Stonehaven Music Festival
Located in a picturesque seaside village just up the road from Dunnottar, the annual festival is small, but includes free afternoon performances in the village square. A good time was had by all!
KIRKWALL, Orkney Islands
Neolithic sites are 5,000 years old
Skara Brae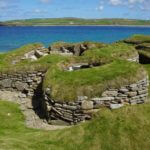 "Skara Brae was inhabited before the Egyptian pyramids were built, and flourished for centuries before construction began at Stonehenge." Neolithic flagstone house with rooms, dresser and stone beds.
Ring of Brodgar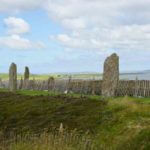 Neolithic Standing Stones: "Dramatic upright stone circle dating from the late Neolithic period, with ditch and causeways." Definitely erected before Stonehenge. You can walk around the circle and touch some of the 36 stones still standing. 😊
Standing Stones of Stenness
Today they consist of four upright stones up to 6m (almost 20 feet) in height in a circle that originally held 12 stones and had a hearth in the middle of the circle.
Maeshowe Chambered Cairn
"Stand in awe of one of Europe's finest chambered tombs. Incredibly, the entrance passage to Maeshowe is aligned with the setting of the midwinter sun, so that the light illuminates the tomb's interior."
We visited during a torrential downpour, but inside the stone cairn not a drop came through.
Pronounced: Mays how
Ness of Brodgar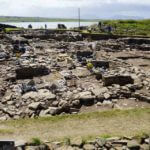 "In 2003, the excavators uncovered "one of the largest, if not the largest, stone-built Neolithic non-funerary structures in Britain." It is turning out to be incredibly more significant than first thought. Every week turns up new information. This with only 2 months a year of on-site excavation because of the weather.
You can follow the excavation's progress (and make a donation to support the work) here.
Broch of Gurness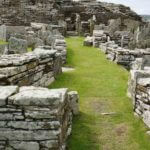 An Iron Age broch village. It once housed a substantial community. It also had the grave (from a later date) of an important Viking woman.
Visitors can walk among the stones with no barriers to keep you away.
FORRES, County Moray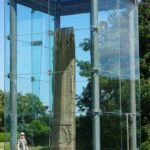 Sueno's Stone
It is the largest surviving Pictish stone of its type in Scotland and stands over 6.5 meters tall. (Just over 20 feet). It's huge! Believed to still be in the area where it was originally placed.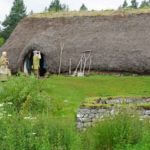 Highland Folk Museum
Large acreage open air "museum" with a 1930s farm, many historic buildings from all over the Highlands. Fascinating stroll into the Highland culture through life in a 1700s Township (featuring 6 houses). Also a filming site for the "Outlander" series where Duncan is out collecting taxes from the surrounds.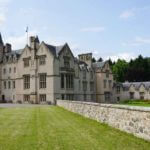 Brodie Castle
Wonderful castle and expansive estate. This castle is filled with priceless art, oriental porcelain and furniture. Continually used for 400 years by the Brodie clan until just recently.  Before that it is believed that the clan's ancestors ruled the area even back to Pict culture times.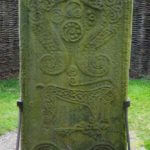 Rodney's Stone
Intricately carved Pict culture stone about 6 feet tall from the surrounding Forres area and now on the Brodie Castle estate.
Benromach Traditional Distillery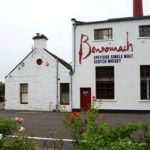 Labor intensive, traditional handcrafted single malt whisky. The second smallest distillery in Scotland churning out a distinctly flavored line.
Our apartment was only a 5-minute walk away, and our tour included tastes of four different varieties of their whisky, including organic.
INVERNESS, County Inverness-shire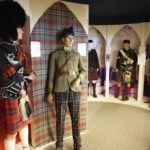 Kiltmakers Museum
A small but really informative display of tartan history and patterns. More than 650 different ones available; kilts can be ordered handmade even today. We decided not to have one made; John also declined to hire (rent) one for the day (darn).
Inverness Botanical Garden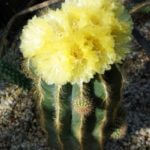 To get there it took a beautiful and very long walk along the river Ness. Yep, attached to Loch Ness is the river Ness.  We didn't go upstream to see 'Nessy' or the Loch. Do you know you can get a sonar boat trip to try to find the monster? There are some serious hunters out there. But I digress, The botanical garden is a hidden gem with the best hot house for cacti and succulents. They were blooming, too! John got some great pictures.
Inverness  Museum and Art Gallery
Great Viking special exhibit and many articles from the Jacobite rebellion.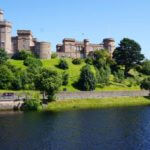 Inverness Castle
Big fortress right in the city overlooking the mouth of the river Ness. "Inver" means mouth. Used today as government building so you can't go in for a tour but it has a great location to view the surrounds.
ULLAPOOL, County Ross-shire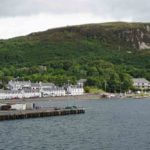 Picturesque fishing village and  important deepwater port; ferry terminal to the Outer Hebrides.
ISLE OF LEWIS, Outer Hebrides
Standing stones, stone circles, old Viking mill, cairns, all right there in the middle of someone's sheep and cow pastures. Gotta read the post on this one (coming soon). It was a great trip with an Archaeology guide.
Callanish Standing Stones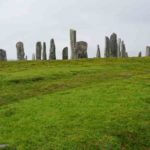 One of the most significant stone circles in the British Isles, Callanish includes more than 40 stones with a number of seasonal and geographic alignments.
The site also includes a small burial cairn.
Tallest standing stone in Scotland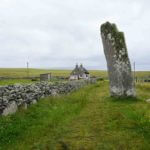 Seemingly set in the middle of nowhere (with precious little signage to direct modern travelers), our guide believes this was probably put up as a navigational aid for early seafarers.
Viking Mill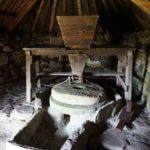 This reconstruction of an Iron Age grain mill that actually existed on the site features a horizontal water-driven grindstone.
First restored in the late 1960s, the original mill, rebuilt and repaired many times over several centuries remained in active use until the 1930s.
Dun Carloway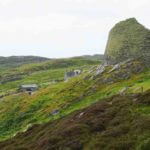 Remnants of an ancient stone broch, probably built more to impress than as an actual defensive structure.
Best preserved broch in the Outer Hebrides.
ISLE OF SKYE, Inner Hebrides
Scotland's #1 scenic destination. And the crowds bear that out.
Portree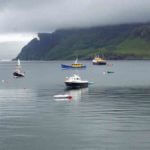 While we were there, a couple of massive cruise ships put into the lovely, protected harbor at Portree and overwhelmed the town with visitors.
Fairy Pools, Fairy Glen, Kilt Rock, everywhere is the greatest scenic landscape.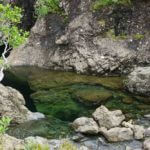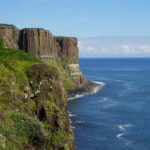 Dun Beag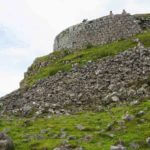 "An excellent example of a broch, a kind of Iron Age round stone tower only found in Scotland… The broch would have been built around 2,000–2,500 years ago."
Dunvegan Castle and Gardens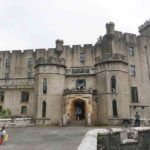 Located on the shore of Loch Dunvegan, the castle has been continuously occupied by the chiefs of Clan MacLeod for over 800 years.
By the way, Dunvegan has nothing to do with the popular vegan diet, which excludes animal products of any kind!
PLOCKTON, County Ross and Cromarty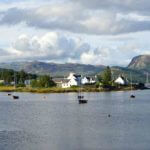 Secluded fishing village set in an idyllic location surrounded by steep, lush landscape.